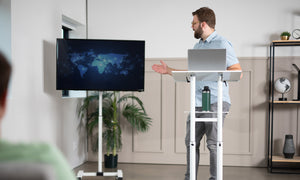 ERGONIMIC SOLUTIONS FOR THE CLASSROOM
Create a comfortable & productive learning environment for students & staff
Elevate Your Classroom
Whether you're looking to reduce staff fatigue, boost student concentration, or simply create a more productive environment, we have the products to elevate your classroom. From alternative classroom seating, height adjustable desks, mobile workstations, podiums, TV carts, and more, we've got solutions that keep your classroom moving.
1 on 1 Support
Our dedicated wholesale team is here to support you before, during, and after an order is placed, ensuring you have the best ergonomic solution for your needs.
5 Item Minimum
Whether you've got a team of 5 or 500, we offer discounts to meet your needs. Bulk order discounts start at a five item minimum, ensuring you get the solutions you need at a fair price.
FAST & Safe Delivery
Once an order is placed, our team works to get it in your hands as quickly as possible. Orders can ship LTL/FTL.
Request a Custom Quote
Email: bulkorders@vivo-us.com or Phone: 1-309-278-5303 ext. 2